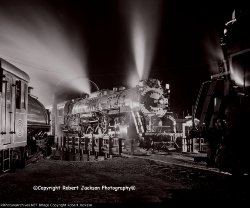 Welcome to the RRPictureArchives.NET contributor site of Robert Jackson.


I am 37 and have railfanned since 5 years of age (1988)! I've had many invitations as a kid on the GTW (my favorite railroad) into many engines and cabooses (everything is very different in the 21st century (3rd millenium))! I shoot only film pictures and will stay that way forever (I'm a photographer if nobody can tell by these words)!
My Dad taught me photography when I was 6 years of age! I started with a Canon Manual TX 35mm SLR camera railfanning and the rest is history! I use only SLRs, except the occasional "Point-and-Shoot!" I currently shoot with my Canon AE-1, AE-1 Program, A-1, F-1, T70 35mm, and Mamya C330, RB67 and Pentax 645 Medium Format film cameras! Please keep checking out my pix (if anyone is reading this now!)! RJ
All photos are ©Copyright of
Robert Jackson Photography®
all rights reserved
Please do not use any of my photos for anything without my permission!!!!



You may browse my collection of pictures via the menu located on the left hand side of the page. I hope you enjoy the collection and thanks for stopping by!